I'm splitting up my trip to Paris into 2 blog posts because it is getting really long. I don't want to bore you with so much text at once and I really need to get a blog up today! 🙂 So this will be about the first half of my trip! 😀
Paris is officially my number one favorite city in the world. Previously, that spot was held by non-other than "the big apple", New York City. In some ways, Paris has the big city feel that New York has, but with the lovely European charm, which is what makes it top NYC.
I arrived into Paris Charles de Gaulle Airport Thursday afternoon, picked up my luggage and headed to the metro to find our apartment. We decided to rent an apartment instead of staying in a hostel because with four of us, it ended up being cheaper and I liked the apartment idea better. We booked our apartment on airbnb.com about a month and a half in advanced. The metro ride from the airport to the stop nearest to the apartment took about 45 minutes. Unfortunately, Paris does not have the luxury of have the express train to and from the airport like Oslo has. I was a bit overwhelmed by how many people were on this metro on top of that I really had no idea where I was going, just following my directions from Google maps. 😉
Surprisingly, I made it to the apartment without any wrong turns and no problems at all besides figuring out which door was the right one. Thankfully, Kailey, who had arrived a few hours earlier, was already at the apartment and let me in. I graduated high school with Kailey and actually have known her since kindergarten. She decided to take a year off of school and is a nanny in Germany right now and I had posted a status on Facebook a few months ago saying I was planning a trip to Paris and anyone was welcome to come. She commented on it saying she was only a 3 hour train ride and would love to come with. The funny thing is, we had never hung out in high school outside of school, but we took 4 years of French together and always were in the same class.
Anyways, I got up to the apartment and just kind of relaxed a bit. Traveling is sometimes really exhausting and all you need is a nice hour or so to just relax and not do anything. After catching up, Kailey and I decided to walk around the area of the apartment and do a little grocery shopping so we could have food for breakfasts; that way we would save money by not having to eat out for breakfast. We brought the groceries back and then headed out to go find a place to eat for dinner. We found a cute, typically Parisian-looking café to have dinner at. We both ordered Caesar salads, which were delicious minus the anchovies we picked off. 😉 After dinner we headed back to the apartment and waited for the other two girls to arrive.
I met Amber last year in my French class at UND and we knew we were both studying abroad this semester. We always talked about how we need to meet up somewhere while we are abroad and go on a trip together. We thought around the idea of Paris, since it was kind of half way between where we both are studying (she's in Bilbao, Spain) and it's French. We didn't talk too much over the summer just a couple times before I was going to leave for Norway and same with her before she was leaving for Spain, but we always mentioned that we need to plan the Paris trip and it eventually was planned! I'm really glad it all worked out and we stuck to our words. A lot of times people will say "oh yeah, let's go on this vacation together and blahh, blahh, blahh" it never happens. So it was cool that it actually worked out! Amber's friend Courtney came with, who also goes to UND and is studying in Bilbao. Travelling and studying abroad is such a unique experience and gives you so many opportunities to meet people you would never.
They flew into Paris on RyanAir, so it took them a lot longer to get into the city since all RyanAir airports are never very close to the actually city. They arrived to the apartment around 9:45pm and then we went to the grocery store down the street so they could get some food for dinner. Even though Kailey and I had eaten dinner already, we ended up snacking on delicious French cheese [I'm in love with Camembert] and crackers. The rest of the night was spent sipping on wine and chatting away. 😉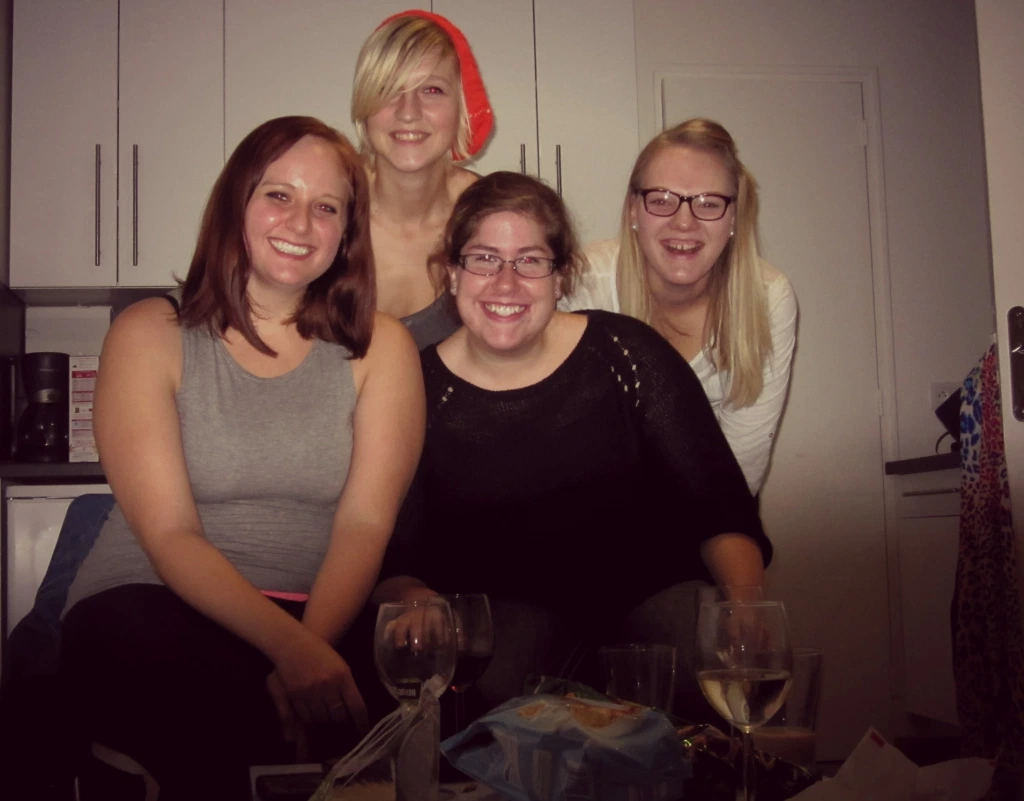 Before our trip, I knew I wanted to have each day somewhat planned out or at least have an idea of what to do each day so we didn't waste time deciding what to do in the morning. So me being the type of person, who likes to organize and plan things like this, I took charge and planned out our trip for the most part. I can tell you, that it was such a good thing to have. Even though we didn't follow it completely to a tee, and that was not what it was for, it helped us a lot. I really recommend that if you are going to a city that has a lot of places to see and little time, make an itinerary! 😀 It helps!
Friday morning I planned for us to go the Louvre, so we woke up early enough to make it there within its first hour of being open. Side note: if you plan on going to see places like the Louvre, Notre Dame, Versailles, etc. GO EARLY! You may be kicking yourself in the butt for deciding to get up so early, but once you've gone to the places and then see the line outside waiting to get in when you leave, you will thank yourself.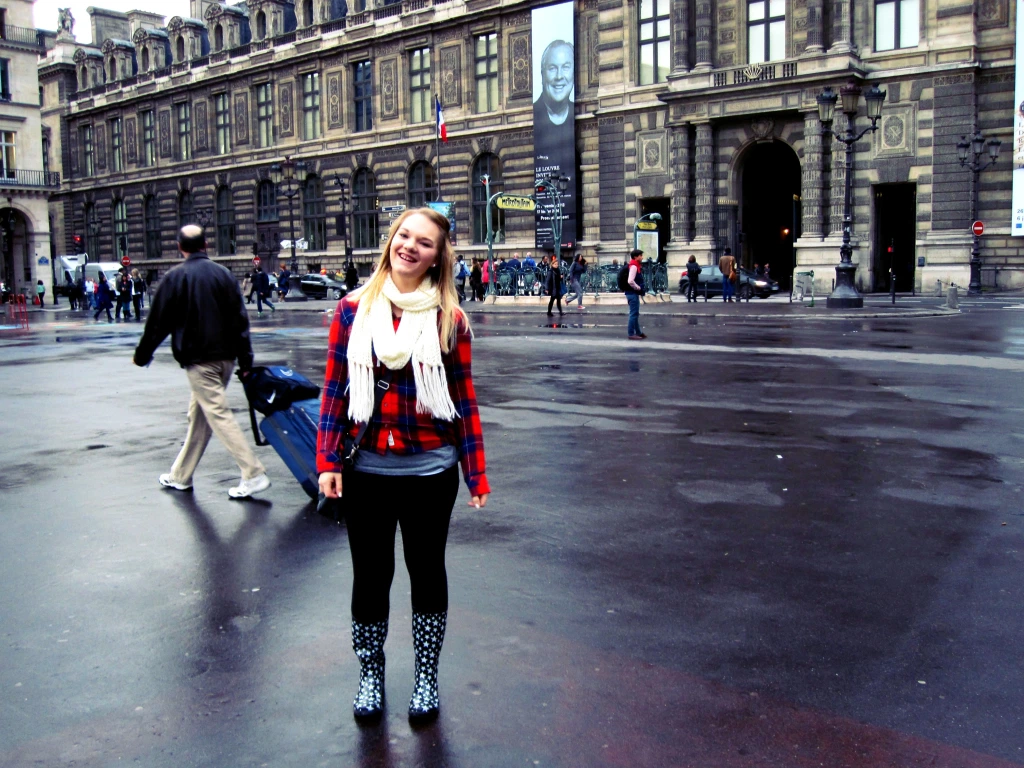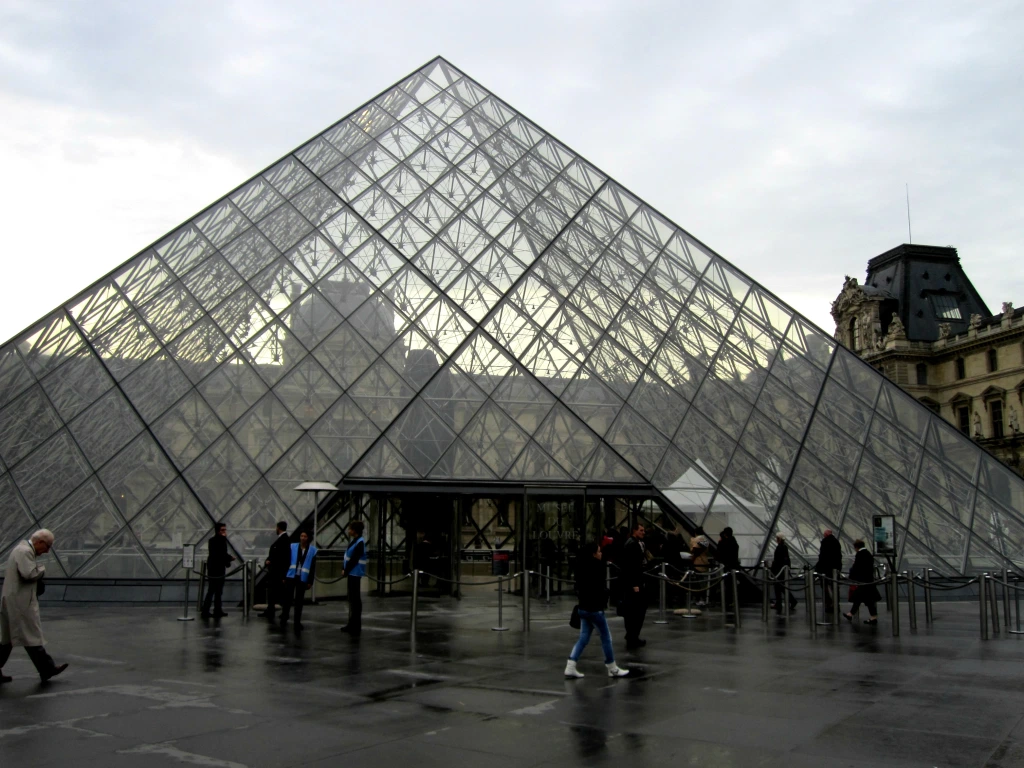 The Louvre was really cool and of course got to see "La Jaconde" or the Mona Lisa in English. I had been told before of how small it is in person, so I was not really disappointed in it, but I can definitely see why someone would be shocked with the size of this painting, if they had not heard that before. We saw a bunch of other cool paintings and stuff and the building itself is beautiful. I was almost more in awe of the building than the paintings. I just love seeing old buildings that are still standing and in use after so many years, with such amazing history. After seeing the Mona Lisa and Venus de Milo, I was ready to leave because one, we hadn't really ate breakfast, two, we had already spent about an hour and half in there, and three, it was getting so busy – and sometimes I just cannot handle people pushing and shoving not knowing where they are walking.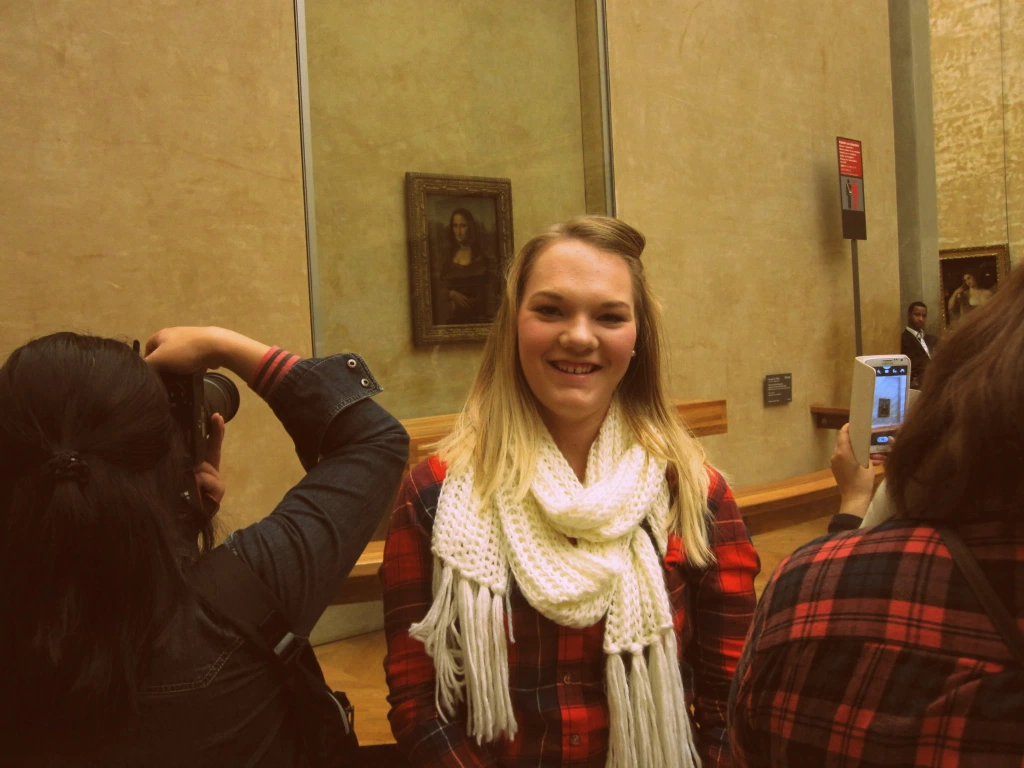 After the Louvre, we went to have lunch and since we were all starving, we decided to just go down couple streets to eat in a French restaurant. We all ordered the same thing to eat – Croque Monsier! It was delicious! In high school, we made them in French class a couple times, so I thought I had to try one in Paris. It was probably one of my favorite things I ordered while I was in Paris. It's so simple, yet just so good.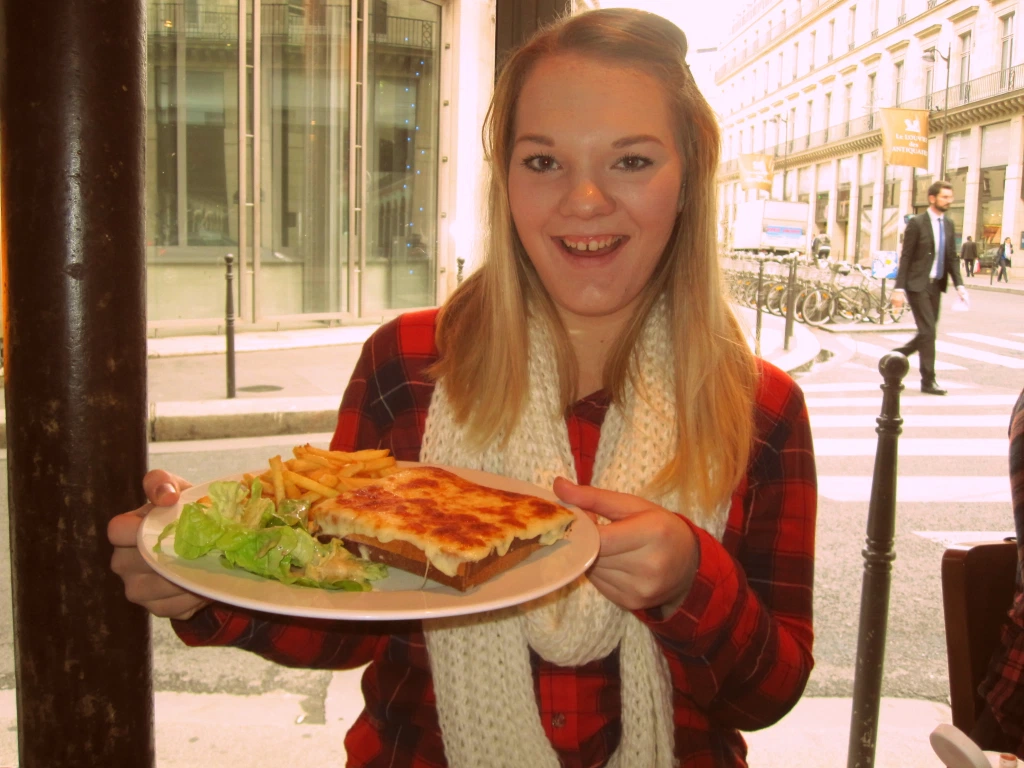 We then headed on the metro to the Champs Elysées. Let me make another side note: the Paris metro is the EASIEST metro ever! As long as you have a map of all the lines and know where you are heading, you can get literally anywhere in Paris. We all bought the 5 day passes for zones 1-5 since that included getting to Versailles. If you are just going to Paris and not planning on doing Versailles, just get zones 1-3. It was about $80usd and included all metro lines and busses. The Champs Elysées is one of the most famous streets in Paris, if not the most famous. It has tons of shops, cafés and the Arc de Triomphe and Place de la Concorde are on this street as well. We spent the afternoon walking down the one side towards L'Arc de Triomphe and then took pictures by it and then walked back up the other side.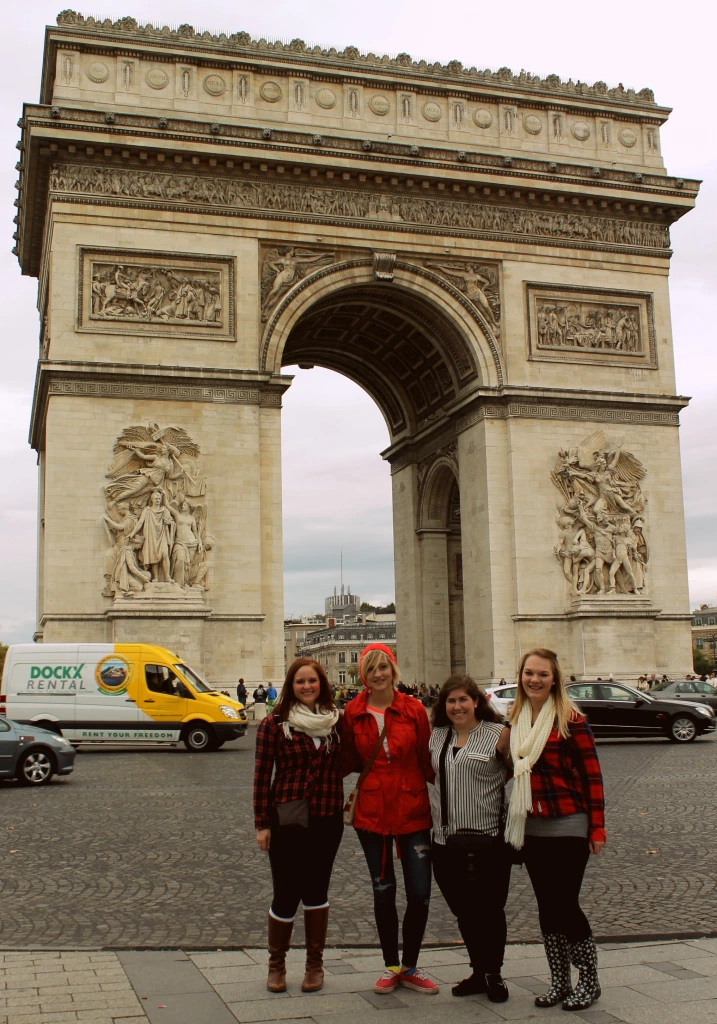 We also did a bit of shopping and of course had to stop at the Starbucks! 😉 I, being the makeup loving person I am, had heard all about French pharmacies and their skincare and French makeup brands. So to say the least, I went a little bit too crazy with my makeup purchases… and I am going to end that at that. 😉 I also did end up buy a pair of jeggings and shirt from the H&M there as well.
After a long afternoon of walking around and shopping we went back to the apartment to relax and then got ready to go out. Amber and Courtney had booked tickets for dinner and a show at Moulin Rouge and Kailey and I chose not to go and went out for dinner and walked around the Eiffel Tower at night. Seeing the Eiffel Tower for the first time is surreal, well at least for me it was. It's such an iconic landmark of Paris and France and a place I'd never thought I'd be able to visit at only 19 years old, on my own with friends. At night when it's all light up is breathtaking and indescribable and I could never get sick of just staring at it. 😀 It's just beautiful!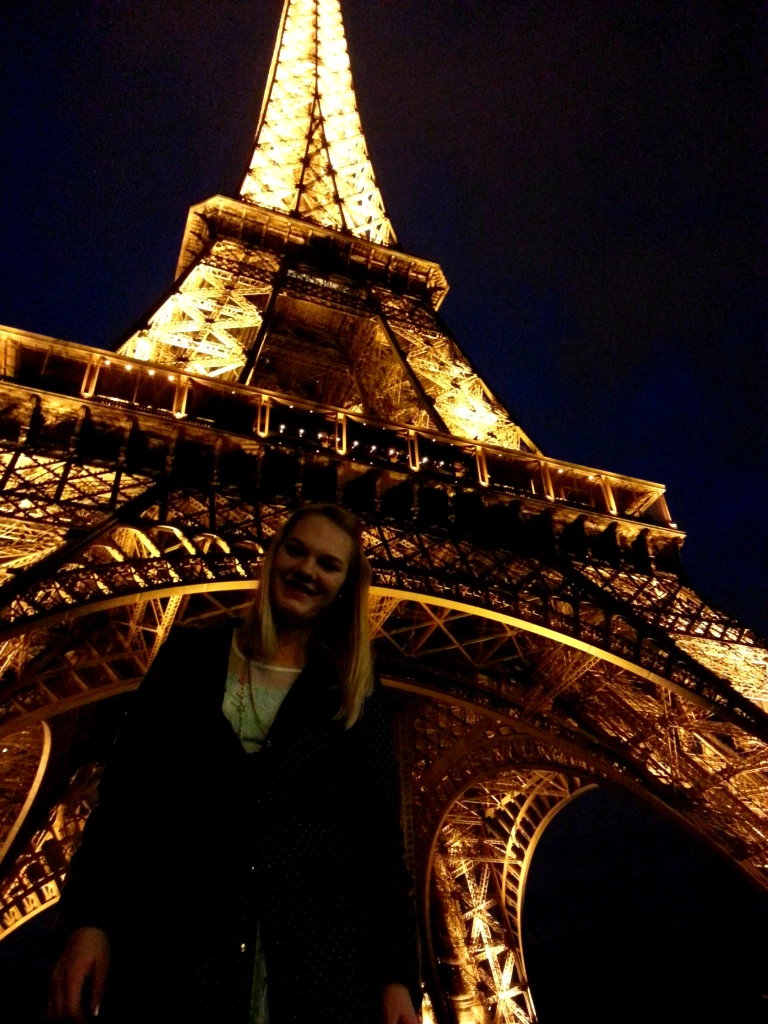 Saturday morning again we got up early to go to Notre Dame, but not without first stopping at Starbucks right before getting on the metro. Last fall, I had an obsession with Pumpkin Spice Lattes from Starbucks and being in Europe, I really didn't think I would be able to find them… not sure why. I even had my mom send me the Starbucks instant pumpkin spice coffees. Well anyways, we walked up to this Starbucks and smack-dab right at eye level, is a sign for, you guessed it, PUMPKIN SPICE LATTES! 😀 I almost had a mini heart attack from the excitement, not even kidding. 😛 I even ordered  it entirely in French! That was a proud moment as well. 😉 Oh and the barista was real cute! 😀
[pumpkin spice excitement pic]
We walked up to Notre Dame with Kailey's phone playing songs from Disney's Hunchback of Notre Dame and we were not ashamed of that… 😉 Hahah It was again beautiful. I really should get out a thesaurus and find some other words to describe all these places in Paris, but they all were just beautiful. Thankfully, we got there earlier enough so the line moved pretty fast to go inside and we walked around in there as well.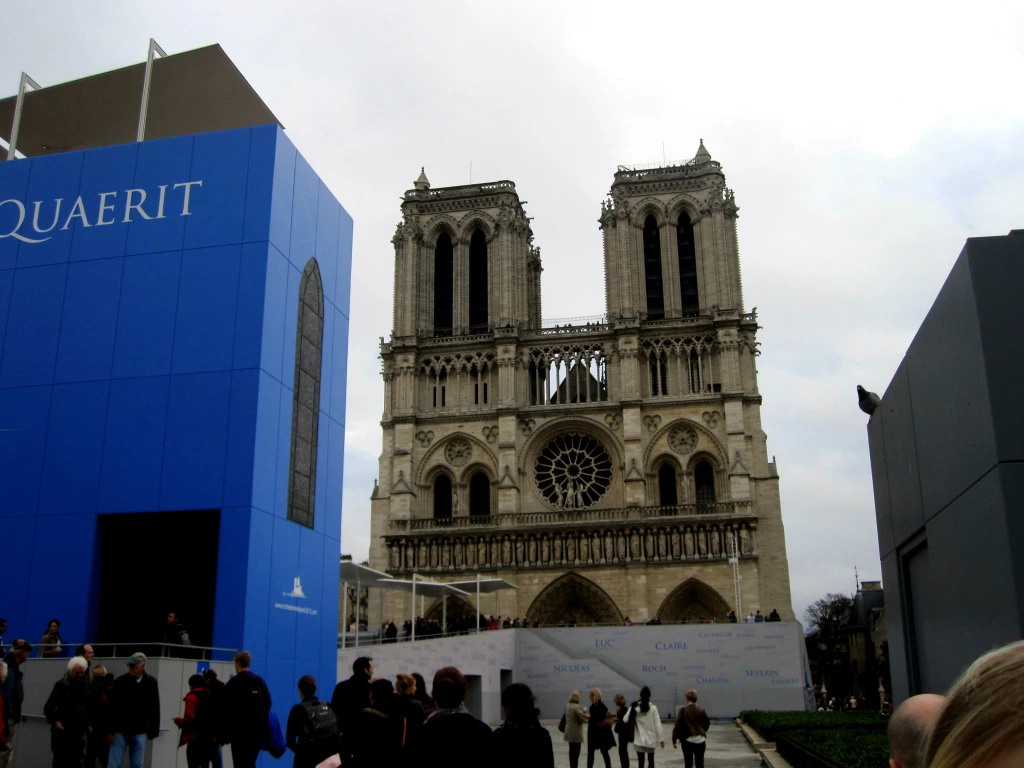 We then headed to Île Saint-Louis, the other island connected by a bridge to Paris, where they have this, at the time, "supposedly" greatest ice cream ever. We decided to have our ice cream before lunch since we were already in the area to get it. Let me just tell you, that ice cream did not disappoint! I had been told to get the vanilla because it's the best, from a fellow student at BI who's from Paris. I am not usually a vanilla person at all, so I opted for a scoop of chocolate of course and vanilla, to try. Let me tell you it was the BEST ice cream I have ever had by like a million and I never say things like this, but the vanilla was better than the chocolate! 😀 Seriously, if any of you reading this are ever in Paris, you have to get Berthillon ice cream; you will thank me later. It was so good; we ended up going a second time, the last day we were in Paris. 😉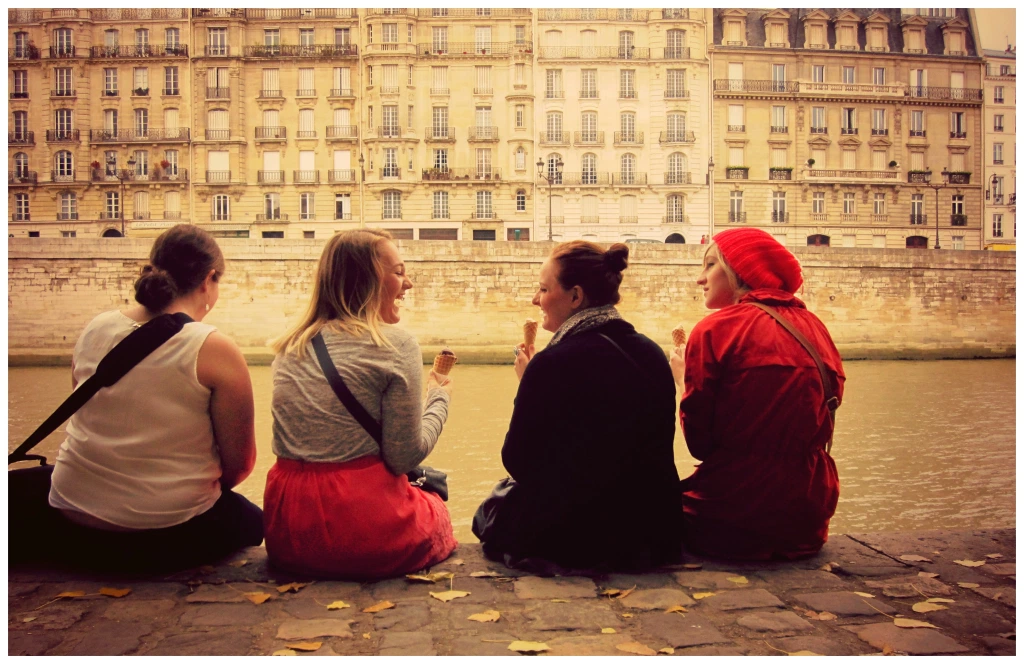 After enjoying our ice cream sitting on the bank of the Seine, we decided to head to Les Invalides to see Napoleon Bonaparte's tomb and go to the army museum there. The army museum there was really cool and had World War II exhibit thing, which was really cool. I found it interesting to go through a museum like that, looking at the war in sort of their [French] eyes versus, like an American museum's perspective.
The rest of Saturday afternoon was spent walking around Paris and then we went back to the apartment. Before going to eat dinner, we decided to go to the Centre Georges Pompidou. We knew we wanted to eat dinner in the Le Marais area of Paris and that museum was right near there. We got there around 7:00pm and the museum closed at 8:00pm, but we were okay with that since we didn't have to pay to get in. A lot of the museums in Paris are free for anyone under 25 with a European Union residence permit; sometimes they even included Norway in that. 😉 So that was a really nice not having to pay for all these entrance fees. I am not the biggest fan of museums, but I love art, which is kind of strange. But I really liked this museum because all the art in it was extremely modern and very different. Some of the pieces really made you think and were so unique. I liked it a lot and the building itself is super unique from the outside.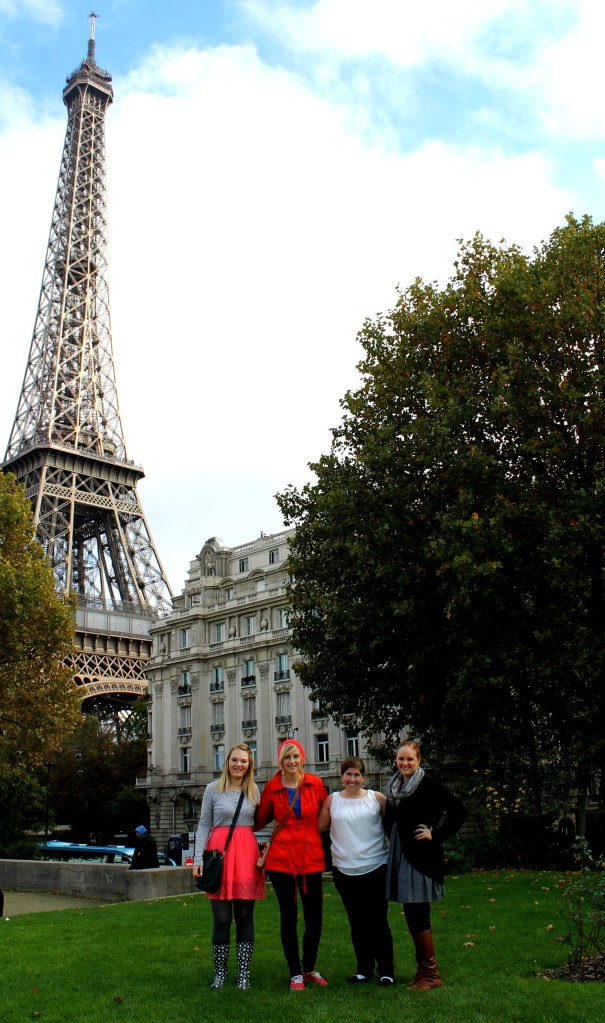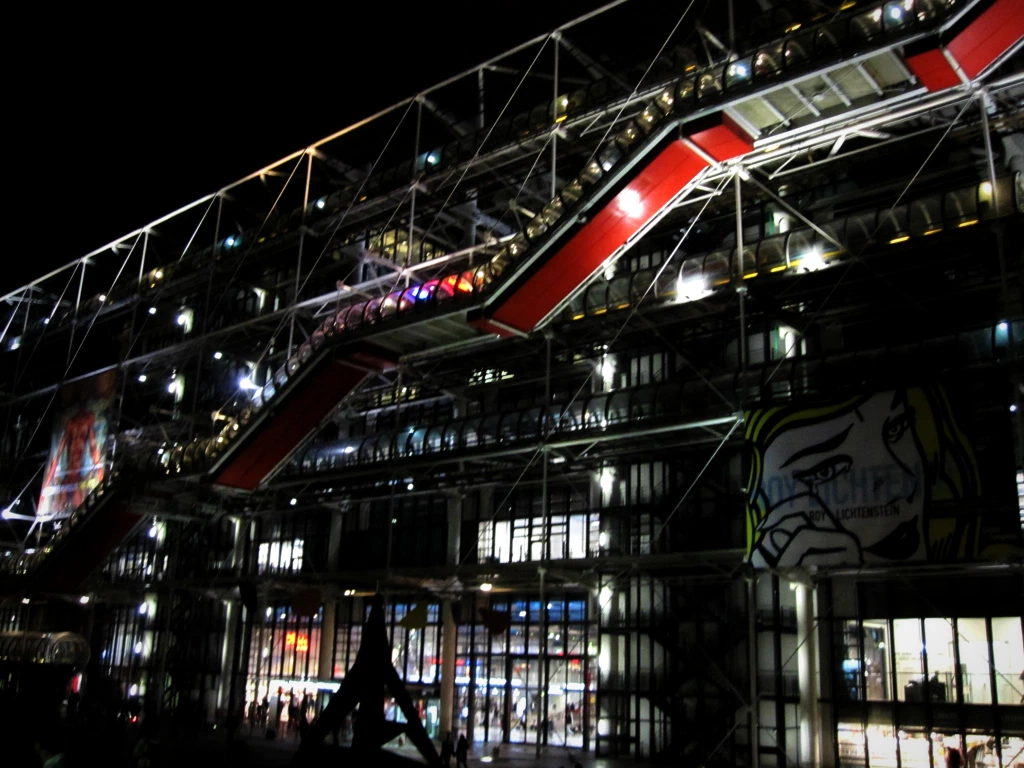 After that we had a nice dinner outside. I had this sort of lasagna thing that was actually really good, but reminded me of sloppy Joe meat. 😉 [Sorry to any non-North Americans reading this, you probably have no idea what sloppy Joe's are. http://en.wikipedia.org/wiki/Sloppy_joe ] After dinner, we walked around the area in search for Crêpes because you have to have a real French Crêpes when in Paris. We all ordered one with Nutella and bananas. It was soooo good! 😉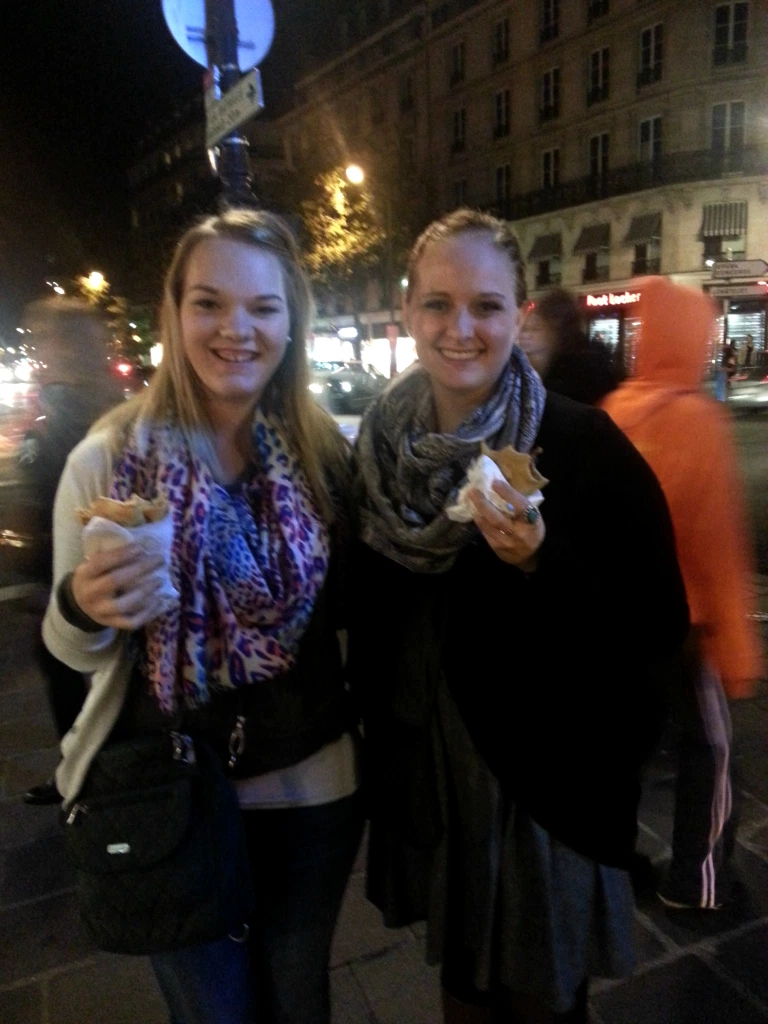 I'm going to stop here for now and will post the 2nd half of my trip in a few days, so stay tuned for that! 😀
-Hannah