It's been a while since my last post on here and I apologize for that. 🙂 I won't waste anytime, I'll just jump right into what I've been doing.
Last Thursday, I had my first movie theater experience abroad. I went with my friend Simon, his friend Niko, Niko's girlfriend, Simon's friend Max, and then 2 of my Norwegian friends. We planned on going to see The Conjuring at 9:00pm, but that did not happen. When we arrived to the ticket counter at the theater, we were told that they only had 10 seats left, but none of them together. Which was actually weird to me, that the seats are reserved. So we decided not to go to that one because who wants to sit alone at a scary movie? None of the other movies playing at that theater were English, so we decided to walk across the street to the other theater to see if there was any decent movies playing there.
We ended up seeing Kick Ass 2 for the price of roughly $17.00 USD for just the movie ticket. Sometimes, you just have to get over the prices of things here and just live. 😉  I've never seen the first one and had no idea what it was even about to be honest. It actually wasn't that bad. The movie itself was in English and just had Norwegian subtitles. It was a cool experience and I think where ever you study abroad it's something you should do! 🙂
Friday morning I woke up and finished packing for my weekend in Stockholm with my aunt and uncle. I took the airport express train from the central station in Oslo to the airport. My flight left Oslo around 1:00pm and arrived in Stockholm right around 2:00pm. I got off the plane and walked to the baggage claim and met up with my aunt and uncle. They arrived in Stockholm from Copenhagen about an hour before me.
We checked in to the hotel at like 3:00pm and then headed out on a boat tour of Stockholm. We stayed at the Nobis Hotel, which was very nice. I would definitely recommend it, if you're not on a budget. It's located right in Old Town and by the main shopping area. An interesting fact about the building the hotel is in, is that the term "Stockholm Syndrome" originated in this building as it was home to the famous bank robbery in the '70's.
The boat tour we took was beautiful. I never realized that the city was made out of 14 islands. I was surprised by the beauty of the city. The buildings are beautiful and we had the best weather. It's been unusually warm here in Oslo and Stockholm the past few weeks. I've been loving the weather, but is it bad that I'm secretly wanting winter? 😉
After the boat tour we had a lovely dinner at a restaurant that served traditional Swedish food. Of course I had to go with Swedish meatballs because how can you not order those in Sweden? They were quite good! It reminded me of home with mashed potatoes and salad.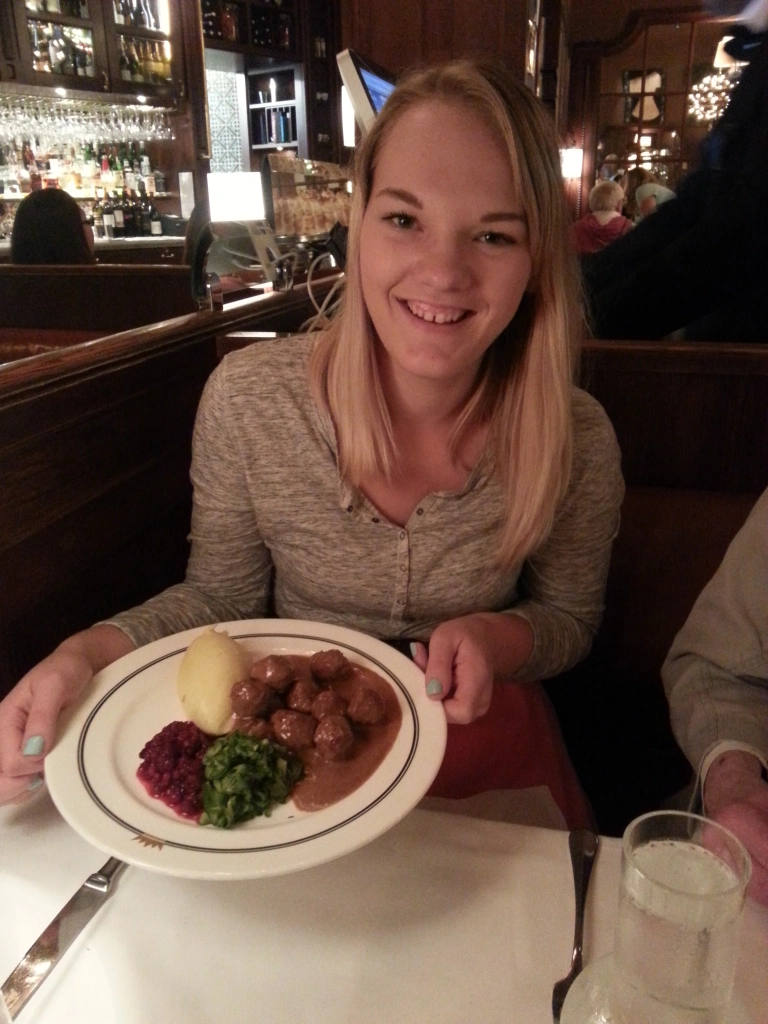 The next morning we woke up and had breakfast at the hotel. I was in LOVE with European breakfasts. I could not believe the array and quality of food to choose from. Breakfast was amazing and after filling myself up with Swedish pancakes and fruit, we took a cab to a couple museums. We first went to the Vasa Museum which, according to Wikipedia, displays the only almost fully intact 17th century ship that has ever been salvaged and sank in 1628 on it's maiden voyage. The other museum we went to was Nordic Museum, which is basically a museum about Swedish and Scandinavian cultural history. I really enjoyed both museums and had fun at them.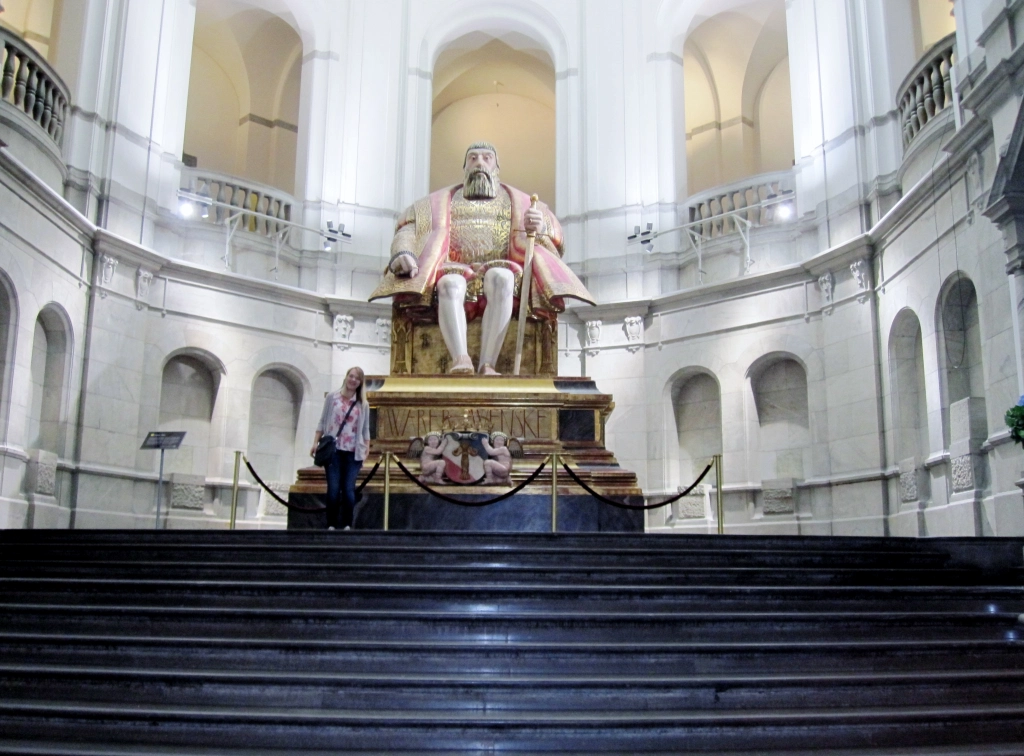 After the museums, we went back to the hotel and then my uncle and I headed out to go shopping. I was on a mission to buy a "fall"ish jacket. I didn't have a nice jacket with me. All I brought was a Columbia fleece, which I felt soooo American in, when I wore it. After a bunch of shops, I finally found one at a store called Bik Bok. Funny thing is, that it's actually a Norwegian store. I paid around $90 usd for a fall jacket, which is't too terrible and it looks Norwegian. It  was a little cheaper to buy in Sweden so I'm glad I bought it. (:
The shopping excursion lasted about 3 hours in that  time we picked out a few shirts for my aunt, I bought my jacket and a shirt, and we experience a Swedish outdoor food market. Oh and got lost. 😉 We left the hotel with no map, thinking we would be fine. We somehow got all turned around and gave up trying to get back to the hotel after 20 mins so we opted for a cab ride back to the hotel because our feet hurt. We then relaxed at the hotel until dinner. I ate at the cutest little French cafe and enjoyed a three hour dinner with my aunt and uncle. I really can't thank them enough for how well they treated me on this trip and all the most delicious meals I ate. (: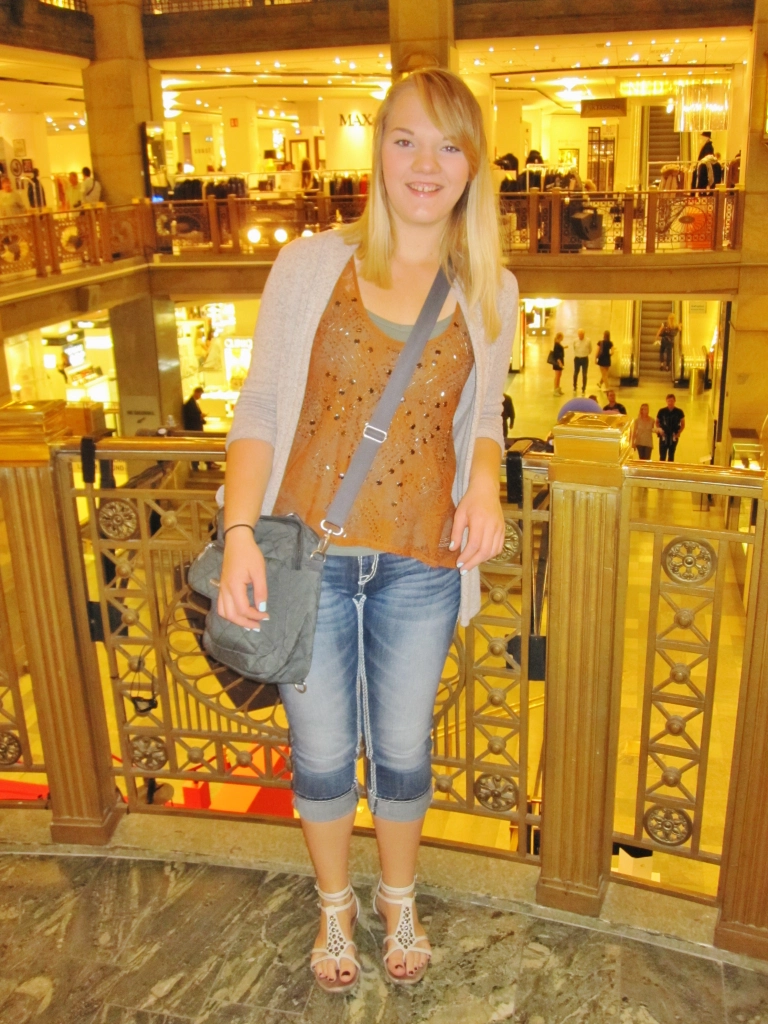 We left Stockholm Sunday afternoon and checked into the hotel in Oslo with my aunt and uncle who stayed two more days in Oslo! Monday we once again had a delicious European breakfast and  then went to Frogner Park where all the statues are. It's quite an amazing place. We spent a couple hours there and then I brought them up to Holmenkollen ski jump and took them to this restaurant called Frognerseteren to eat their "famous" apple pie cake, which is pretty much heaven. Check out their website here >>> http://www.frognerseteren.no/index.aspx The building is beautiful and has an amazing view of the city.
Monday night my amazing aunt and uncle took me out to dinner with my friend Sara. I really enjoyed having them visit and am thankful for them taking me to Stockholm! (: