A few weeks ago, my friends and I had heard about these cruises to Copenhagen where you are on the cruise ship for 2 nights and spend about 7 hours in Copenhagen. The best part of it all was the company, DFDS Seaways, had a special running this fall for 100 kr per person – that's $17 usd! This fall was the 100 year anniversary of the Little Mermaid statue in Copenhagen. We booked it kind of late so the dates were a bit picked over, but it definitely worked out in the end.
We left Oslo around 4:15pm Thursday afternoon. The Norwegians seem to be very trusting because we never once had to show an ID or our passports going to and from Oslo & Copenhagen. Thinking about that just reminded me that when I flew to Stockholm, Sweden I don't think I had to show my passport either. Back to the story 😉 We got on the boat and found our little cabin. By little, I mean really little. It had 4 beds and a small bathroom with a super small bathroom. For $17 we couldn't complain and it turned out to be fine, since we really didn't even spend much time in the cabin anyway.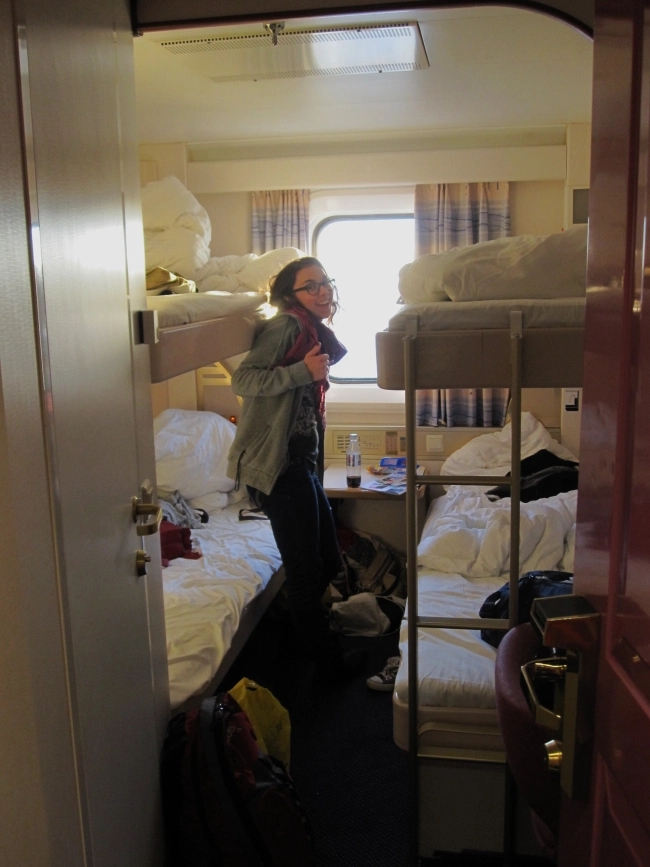 To save even more money since we're all fairly broke college students, we all brought food with to eat for dinner and breakfast the next morning. We walked around the boat, did a bit of duty-free shopping 😉 and then went back to our cabin to have our "dinner." We spent the rest of the night at one of the "clubs" on the boat. I quoted the word clubs because on a Thursday night, we were the youngest people there by probably all our ages combined (besides the kids who were being entertained by a pirate) … In other words a lot of old people so not much of a party. 😉
It was a good night, we ended up sitting in this lounge area and ate chips and candy and I had to share my obsession of Smash! candy with them since 2 of them had never tried it so we bought a big bag at the duty-free shop. Thanks to Sara for telling me about it one day, so I tried it and yeah it's my favorite candy now… I'm quit addicted to it. 😀 Hahah
We arrived in Copenhagen, or København in Danish, at about 9:45am. We hurried off the boat and went to wait for the bus to take us into the city center. We only had 7 hours in Copenhagen so we wanted to make the most of our time. Our first stop after the 20 minute bus ride was Joe the Juice shop to get coffee. I had brought an iced coffee with so I didn't get anything here. With a map in hand (i.e. Sara's hand ;)) we headed to Nyhavn, which literally translates to New Harbor, a very iconic district in Copenhagen with beautifully color buildings lining the harbor full of restaurants, shops and bars.
We then headed over to Amalienborg, the winter home of the Danish royal family. It's located right in Copenhagen. There are 4 identical palaces and a courtyard with cobblestone streets and sidewalks built in 1760. The palaces are guarded day and night by the Den Kongelige Livgarde or Royal Life Guards. They have the changing of guards everyday at noon. We got there at 11:00am so we decided we had enough time to walk to the Little Mermaid statue and come back to see the changing of the guards since we didn't want to waste any time. 

I had been told about how small the Little Mermaid statue is, so I wasn't surprised by how small it was when we walked up to it. Though, I'm sure had I not been told, I would maybe have been disappointed a bit about the size of it. It was still very cool and a must-see in Copenhagen.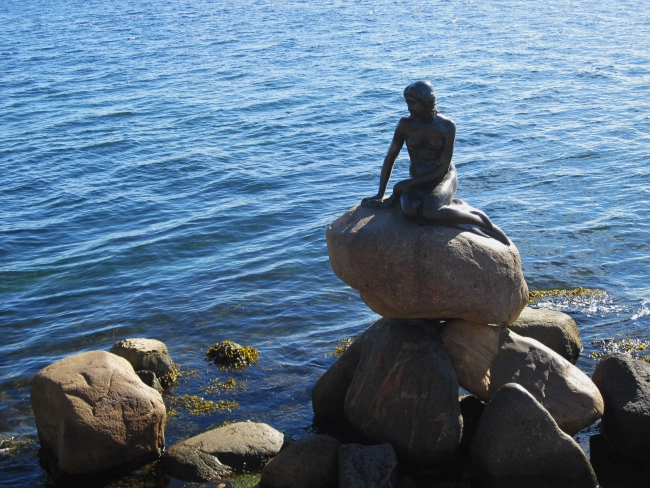 Back at the Amalienborg palaces, we arrived just in time for the changing of the guards. I had no idea what to expect since I've never been to anything like it. It was really cool. The changing of the guards ceremony lasted about a half hour with the guards marching on the cobblestone streets up to the palace, followed by a marching band playing traditional Danish military marches. The marching band only following if the royal family is in residence. I always get random bursts of excitement or I don't know how to describe it, but just being in a place where there is so much history I love it. I guess that's the part of me who enjoys history coming out. 😉 I become in awe of how the buildings have been preserved, and all of the traditions being carried on from so long ago. I just love it and get excited seeing it. Part of it probably has to do with the fact that the United States is relatively a young country with not much history dating from that far back and we don't have any royal family or castles. 😉
After that, it was lunch time and we had planned on eating at this organic vegetarian restaurant we had saw online located in Christiania. So we headed to towards Christiania or "The Greenlight District". I had never heard of it, until our friend told us about it when he went to Copenhagen a couple weeks ago. Here is a good description of the area http://www.visitcopenhagen.com/copenhagen/christiania so I don't have to describe the history behind it.
Being the "anything with peace signs, somewhat of a hippie lover" self I was intrigued and interested in the whole idea and place of Christiania. I had also talked to one of my Norwegian friends and mentioned we were going to Copenhagen, he said we had to go there just to see it. It was about a 15 minute walk from where we were. We could not have had better weather while we were there. It was perfect. The walk was lovely actually, I love old European architecture. The buildings in Copenhagen are beautiful and a lot of them are so colorful.
Walking under the large "Christiania" wooden archway is like walking into a completely different word. Once entered you are not allowed to take pictures and that is clearly stated all in spray paint on the hippie-esque buildings and signs. We walked around for a short time and tried to find this restaurant, but had no luck. We realized how unprepared we were because non of us had exchange Norwegian Krones to Danish Krones so we couldn't even eat at any of the restaurants or cafes because they don't take credit cards. So we basically just walked back out. I would have liked to eat lunch there and walked around more. I didn't really feel uneasy about being there, though I'm not sure the others felt quit the same way. 😉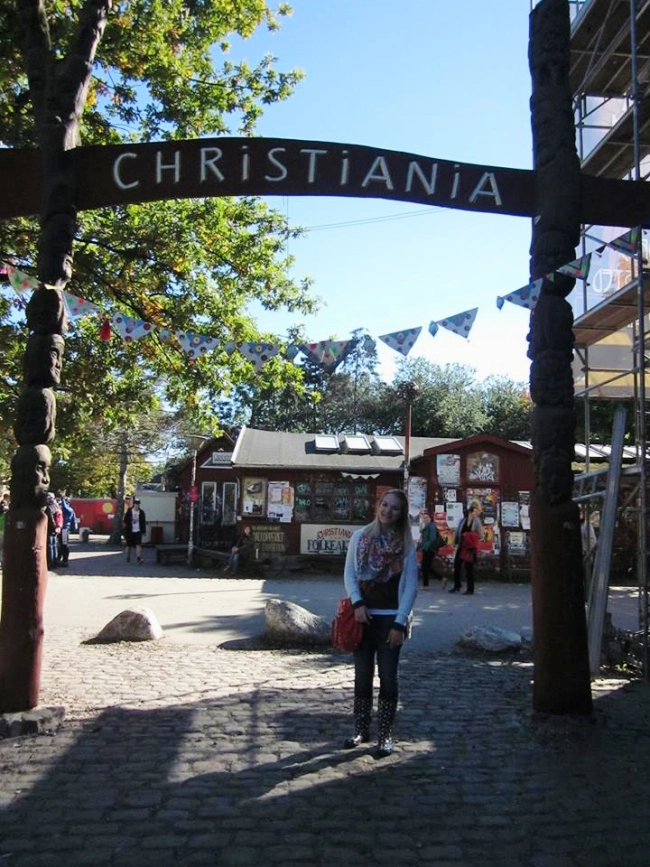 We left Christinia and headed back towards the center part of Copenhagen. We stopped at cute little sandwich shop and got panini's. I had a chicken one and it was delicious. Maybe it was due to the fact I was starving and hadn't ate chicken in over a month.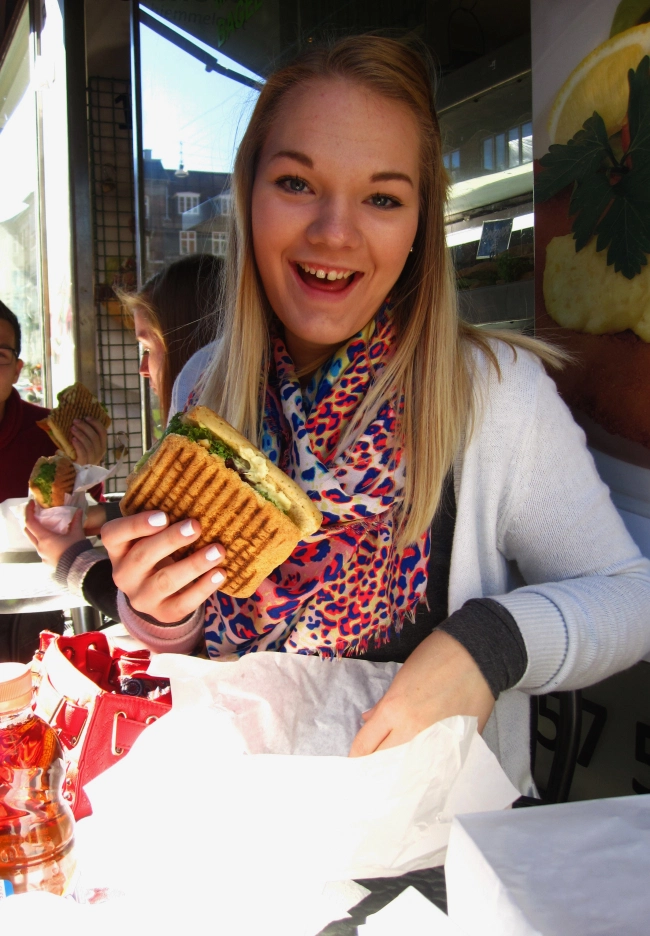 We enjoyed are quick lunch and then headed to the shopping district of Copenhagen. It was again a nice walk. One thing I haven't mentioned yet at all in this post is how many people ride bikes in Copenhagen. It is crazy! They are everywhere!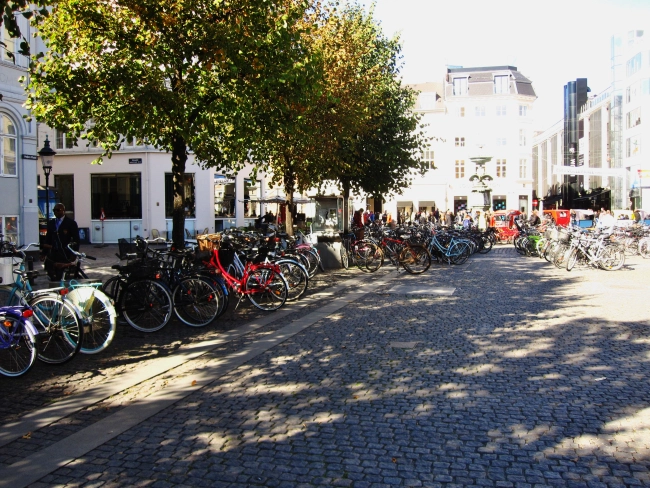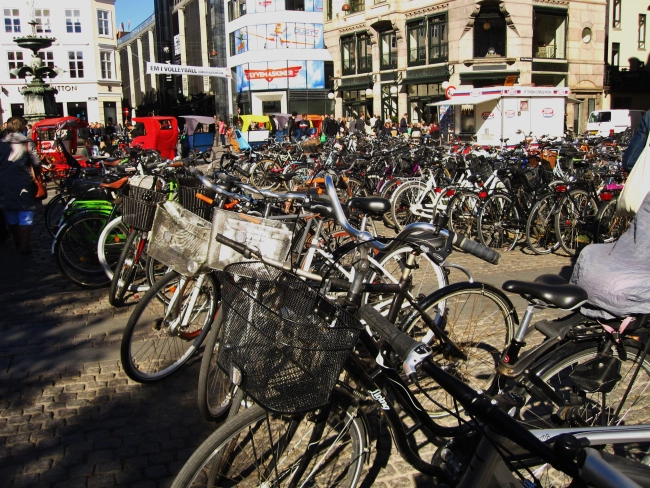 My goal for shopping was to find this place called the Sweater Market. I really want to buy a Norwegian sweater and I had read online this store has all sorts of Scandinavia sweaters. We walked down the main shopping street and we stopped into this sporting goods store that my friend Sara wanted to go in. She had been wanting a Fjällräven backpack. It's a Swedish company that has these backpacks. They are actually really cool looking.
We never made it to the Sweater Market because we ran out of time and one lady we asked thought it might not be open anymore. We only had about 4:45 minutes before we needed to get back on the bus that takes us to the ship. We decided to just head back to the bus stop and then find a place to buy food for dinner because it's cheaper than eating on the ship.
We made it back just in time for departure and then spent the rest of the night mainly in our cabin. We were all extremely tired from the walking and all the we did. We got back into Oslo around 10:00am Saturday morning.
I enjoyed the trip a lot, but for sure would love to have spent more time in Copenhagen. I definitely would recommend it as a place to visit! 🙂